Get ready to watch the Leaderboard like a hawk! Our top fundraisers will have a shot at winning these amazing prizes, all thanks to our fantastic fundraising partners. So make sure to give it your all during the event and keep an eye out for those top spots. You have up to midnight on the day of the event to fundraise, with winners announced the following day. Good luck!
TOP 3 INDIVIDUAL FUNDRAISER prizes:
Top Individual Fundraiser - 1st Prize
one night stay at pier one sydney harbour inc. breakfast for two people

Score yourself an overnight stay at Pier One Sydney Harbour Hotel and enjoy a delicious breakfast for two the morning after. The perfect Sydney staycation.

This unique Sydney hotel is situated within a repurposed Heritage building, built on and over the water, celebrating a unique maritime history. Newly refurbished rooms offer five star comfort and style.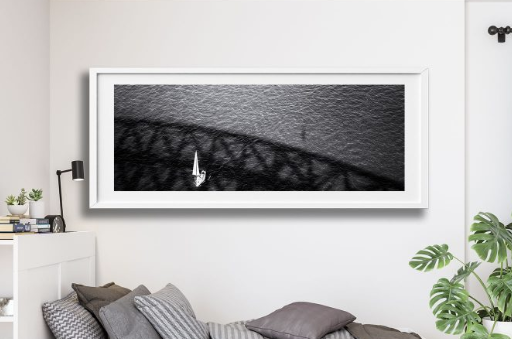 Top Individual Fundraiser - 2nd Prize
FRAMED 'SAIL AWAY' GLENN MCKIMMIN PRINT (1016 x 406 mm)
This stunning "Sail Away" print is a beautiful and serene piece of artwork created by BridgeClimb's
Photographer Tour + Masterclass
partner, Glenn McKimmin. The print depicts a stunningly realistic sailing boat, with a single sail in full billow, as it glides across the calm ocean waters of the Sydney Harbour underneath the iconic Bridge you'll conquer.
The overall effect of the print is a sense of tranquility and calmness, as if the viewer is transported to a peaceful and quiet moment on the Sydney Harbour.

This print is a truly breathtaking work of art, perfect for any home or office decor. Whether you're a lover of sailing or simply appreciate the beauty of nature, "Sail Away" is a stunning print that will capture your imagination and transport you to a world of serenity and peace.
Top Individual Fundraiser - 3rd Prize
$250 HARBOUR VIEW HOTEL VOUCHER
Grab your loved ones and head on over to the Harbour View Hotel (just around the corner from BridgeClimb) where you can spend up to $250 on their amazing selection of food & beverages.
Take in the stunning views and dine al fresco on the open air terrace or enjoy table service in the upstairs restaurant.
The Harbour View was rebuilt in 1922 to become one of Sydney's oldest and most beloved pubs. Today's custodians of this great hotel believe in offering old-school hospitality, with professional, friendly staff serving up fabulous food and excellent cocktails.
TOP TEAM FUNDRAIsing prize:
GROUP VIVID SYDNEY CLIMB EXPERIENCE FOR UP TO 14 PEOPLE
The Vivid Sydney Climb is an unforgettable BridgeClimb experience that offers your team (up to 14 people) the chance to ascend to the Summit of the iconic Sydney Harbour Bridge during the world's largest festival of light, music, and ideas and immerse yourself as the city transforms into a mesmerizing canvas of colour, light, and sound.
Seen these icons on your profile? The rewards are up for grabs! When you reach the fundraising goals, as outlined below, the icon on your profile will change colour to acknowledge your achievement. Rewards will be available to collect on event day and are link to individual fundraising milestones.

How many can you collect?
PYLON LOOKOUT & museum pass
Every participant who raises $100 will receive an entry pass to the Pylon Lookout & Museum. Step inside the Bridge's south-east Pylon to discover the history and artefacts of the Sydney Harbour Bridge & enjoy stunning views from the city's original Lookout.
The first 250 to raise $250 will enjoy eating their way through a Darrell Lea gift bag! You will be able to pick up your goodie bag on event day.
BLACK DOG INSTITUTE tshirt
Participants who raise $500 will receive a t-shirt from our Charity Partner, Black Dog Institute. You will be able to pick up your new t-shirt on event day.
Raise $1000 and receive a sleek BridgeClimb water bottle. You can collect this after your Climb on the event day.
Thank you to Our Reward PARTNERS
We've partnered with a selection of brands to enhance your experience, reward you for being a mental health hero and to make event day, one to remember.